Company proposes second solar farm in Yadkin – Winston-Salem Journal: Local
Richard Craver/Winston-Salem Journal
A Chapel Hill solar farm company has applied to operate a second solar farm in Yadkin County, this one off Dobbins Mill Road in Yadkinville.
Strata Solar LLC submitted an application for Dobbins Mill Farm LLC to the N.C. Utilities Commission in August. The solar farm would produce 5 megawatts of power, which would be sold to Duke Energy Carolinas LLC under a 15-year contract.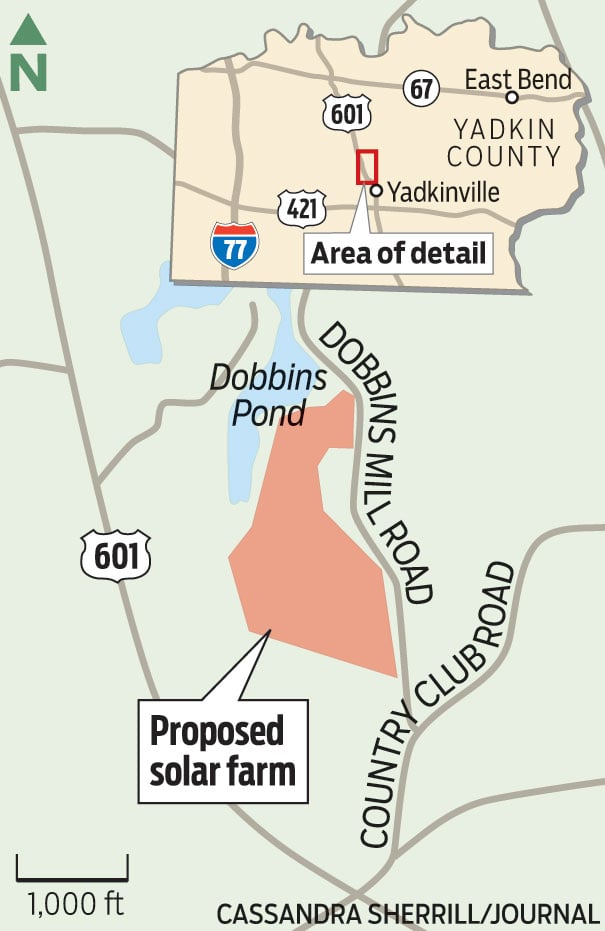 The proposed solar farm is listed as being located on the west side of Dobbins Mill Road north of the intersection with Country Club Road.
The proposal requires a certification of public convenience and necessity from the commission. A public hearing will be held if the commission receives a complaint about the proposal by early October.
If the certification is approved, Strata plans to begin operations in April.
Strata said it has executed a purchase and sales agreement for land with Devon Adams, Craig Adams, Dorothy Ray and Jonathan Ray and entered a lease with Dorothy Holcomb.
In May, Strata proposed building a solar farm for Wooten Farm LLC at the intersection of Pride's and Indian Heaps roads in East Bend. The land, owned by Leon and Margaret Wooten, would be leased by the Strata affiliate.
Also in May, Ashley Solar Farm LLC, which is being proposed by Argand Energy Solutions of Charlotte, would be built at 4716 W. Old U.S. 421 in Hamptonville. The land, owned by Ted Ashley, would be leased by Argand.
By comparison, there is no solar farm operating in Forsyth County.
The other proposed Yadkin solar farms would be of the 5-megawatt variety – about 30 percent of the size of the 17-megawatt solar farm in Linwood in Davidson County.
The impetus for solar farms in North Carolina comes from the Renewable Energy and Energy Efficiency Portfolio Standard, which requires public utilities to have the equivalent of 6 percent of their retail sales come from renewable energy and energy-efficient sources by 2015; that's up from 3 percent now.
That requirement jumps to 10 percent in 2018 and 12.5 percent in 2021.
Most solar farms have been placed in rural areas, particularly on farmland, because land costs are lower than in urban areas.
Strata Solar lists 35 utility solar farms on its website, including a 6.4-megawatt site in Mocksville, where it is doing business as Mocksville Farm LLC at the 30-acre site off Eaton Road. It also lists a 1-megawatt site in Mount Airy and a 901-kilowatt site in Avery County.
O2 Energies has two solar plants in operation in the Mount Airy area – a 1.2-megawatt facility, nicknamed Mayberry Solar, on 6 acres that surround the Mount Airy waste-water treatment plant; and a 4.4-megawatt facility next to the Ararat Rock Products quarry.
via Company proposes second solar farm in Yadkin – Winston-Salem Journal: Local.